'Exquisite – it is interesting that one of the finest books on Nietzsche is a novel'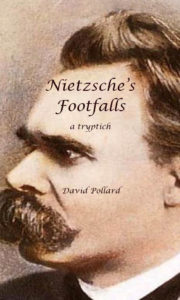 – Jason M. Wirth – Seattle University. His essay on my work can be read here
Buy is now direct for £5 plus p&p. This offer is on for two weeks only. Contact direct here
CLICK HERE TO SUBSCRIBE TO THE MAILING LIST AND RECEIVE A FREE BOOKLET.
A couple of poems:
Michelangelo's Captives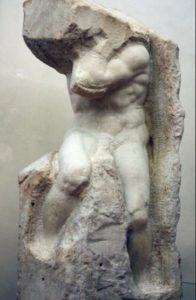 Look —
they are heavy with the weight of resurrection
and the huge struggle to become
what they already are,
unfinished giants for a papal tomb
as stone entombed in stone.
The long stretch of this
our terrible republic
embraces them within the weight
of granite's grace,
hard brooding ghosts of their captivity
after his fingers gnarled away the stone
to speak the process of new birth,
the surge and upward twist
to freedom
from the body's burden.
Earth is the question here
and the collapse of the imagined sky —
thin layer of luminosity
that greets the chisel's cut
between marked marble and the air it touches,
among the hollow curves and skin's endurance,
the weary arm's acknowledgement of loss;
and thus he had to learn another language
for his chisel's failure;
against the hard aesthetic corpus of his love
and the solidity of weariness.

Frida Kahlo Self-Portrait
[With Cropped Hair, Oil on Canvas,  1940,
Museum of Modern Art, New York]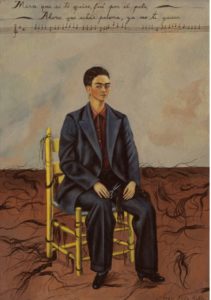 I cropped my hair to fit the moment
of my (false) birth
(coming of age like him at three
with revolutionaries in the yard
and gunfire
and, at six, was broken back
into the pieces that I paint)
recoiled against the hard speed of my mortality
into the canvas its momentum's slice and halt
like the buckled body
so easily shot back
into the accurate smallness of each pain's
stark individuality.
I can lay bare
rebellion
national, notional, feminist, Mexican,
of a body stricken that could
give birth to its inverted imagery
of paint and wound,
of nothing but myself and portraits
of myself who only I know best among the
otherwise untried, untested,
(of course Rivera's wife, of course)
divorced me into myselves and canvasses
and back and yet again
(he understood).
Life's tramcar in its unwieldy rocking
struck but didn't break me,
am Amerindian ribbon round a bomb
that eyes a void the better to avoid falling
into the failing
surface of its art.
I hope the leaving it is joyful
– and never to return.